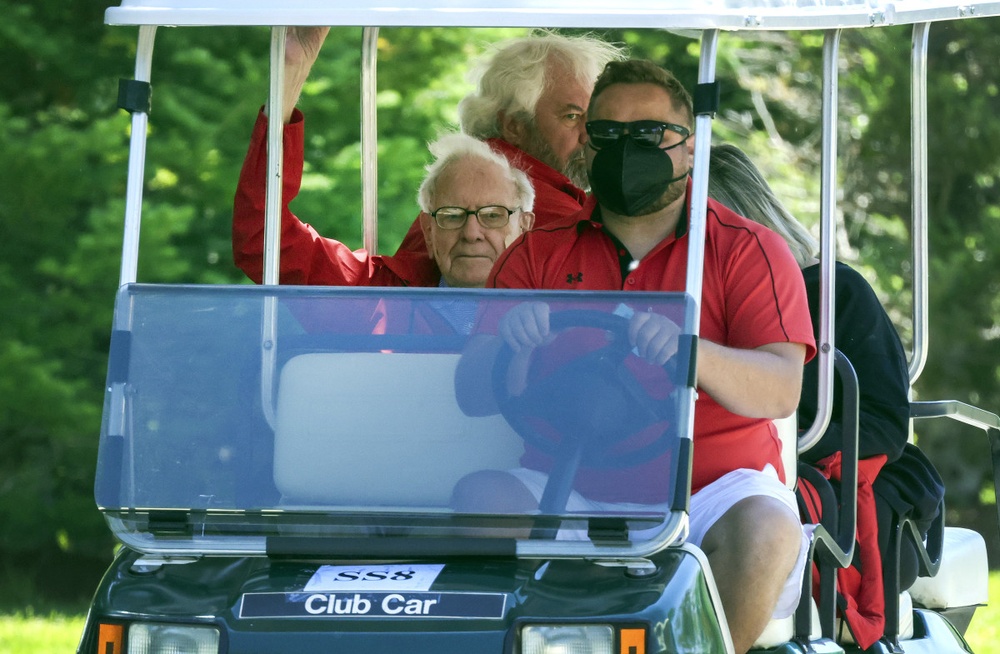 Source: https://www.thestreet.com/stocks/buffett-latest-sports-investment-winner
---
Evidence
Berkshire's full exit from GM's shares could imply challenges for GM's stock price along with anticipated higher labor costs and the transition to electric vehicles[Detroit Free Press].

The purchase of Sirius XM and Atlanta Braves Holdings signifies Berkshire's strategic investment diversification for Q3 2023[investopedia.com].

Berkshire Hathaway, holding a record $157 billion in liquid assets, is speculated to expect bargain opportunities[Business Insider].

---
Perspectives
Investor Perspective
Increases in Berkshire's cash reserves and changes in its portfolio could indicate potential investment opportunities ahead.
[Business Insider]
Market Analyst Perspective
Analyst insights could be derived from Berkshire's strategic decisions, with some suggesting the company's exit from GM could hint at uncertainties in the auto industry
[Detroit Free Press]
.
Warren Buffett's Perspective
From Buffett's vantage, these strategic shifts may reflect the desire for diversification, the chance to pounce on potential bargains
[Business Insider]
, and the advantage of owning cash-generative businesses
[Business Insider]
---
Relevant Trades
---
Q&A
What new companies has Berkshire added to its portfolio?

Berkshire Hathaway added Sirius XM and Atlanta Braves Holdings to their portfolio[investopedia.com].


---


Why did Berkshire Hathaway exit its stake in General Motors?

Though the company didn't specify reasons, analysts suggest Buffett may be anticipating challenges in the auto industry due to uncertainties around the shift to electric vehicles, higher labor costs and the potential for GM having to renegotiate contracts with the United Auto Workers[Detroit Free Press].


---



---
News Media Bias (?)
News sources generally report on Berkshire Hathaway's stock activities with a neutral tone, focusing on delivering factual updates about the investment moves[Detroit Free Press, investopedia.com, The Wall Street Journal]. However, some sources provide interpretive analysis that can imply speculation about Berkshire Hathaway's strategy, offering potential justification for the firm's actions without confirmation from the company itself [Detroit Free Press, Business Insider]. It's important to be aware of such speculation in forming an understanding of the story.

---
Context
Warren Buffett's Berkshire Hathaway is well-known for its strategic stock picks, using its vast reserve of liquid assets to act on investment opportunities. These decisions have a broad influence on market trends and investor behaviors, thus their analysis provides crucial insights into the investment world.

---
Takeaway
These strategic shifts by Berkshire Hathaway, including piling cash, diversification and disposal of non-performing stocks, allow it to navigate market uncertainties while readying for exploit future investment opportunities.

---
Potential Outcomes
Description of 1st Outcome with Probability and Falsifiable Explaination

Description of 2nd Potential Outcome with Probability and Falsifiable Explaination

---
---
---
Deepen Your Understanding of The World      
---
Read Deeper on:
Berkshire Hathaway exits GM; acquires Sirius XM and Atlanta Braves Holdings shares
News Sentiment (?): +1.3

---
---
---
---
---
---