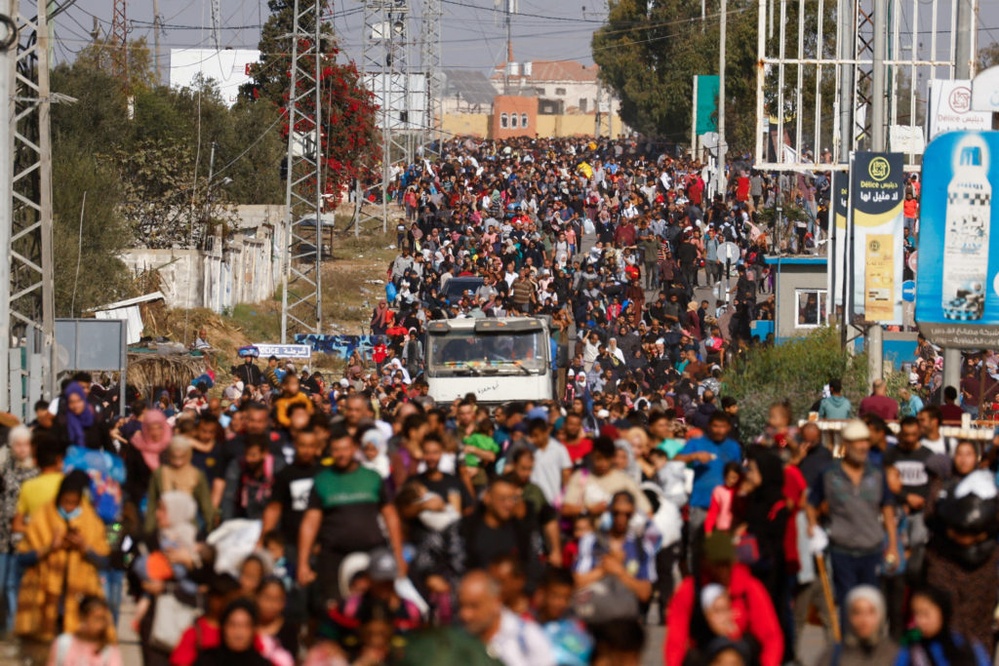 Source: https://www.pbs.org/newshour/show/thousands-of-civilians-flee-northern-gaza-hospitals-as-israeli-troops-close-in
Helium

Summary: Conflicting reports involve claims of Gazan hospitals used by Hamas for military operations and the impacts of Israeli actions.

IDF insist Hamas is using hospitals to shield and coordinate operations[Jerusalem Post], but these claims are questioned and even denied by Palestinian authorities and medical staff[Democracy Now, Common Dreams, Jerusalem Post]. Unverified reports suggest destruction of hospital infrastructure and impact on medical services[bbc.co.uk, Democracy Now, Common Dreams, Jerusalem Post].
November 16, 2023
---
---
Perspectives
Israeli Military
The IDF spokesperson asserts that Hamas is using hospitals for military activities, involving human shields and operations
[Jerusalem Post, Jerusalem Post]
.
Hamas and hospital staff
Hospital staff and Hamas deny Israeli claims, with some accusations of Israel attacking hospitals
[Common Dreams, Democracy Now, CBS]
.
Humanitarian observers
Humanitarian organizations express concern about safety of civilians sheltering at hospitals and impact on services due to Israeli bombardment
[Common Dreams, Democracy Now]
---
Q&A
Is Hamas operating in Gaza hospitals?

Conflict reports exist; the Israeli military maintains that Hamas uses hospitals for military activities[Jerusalem Post, Jerusalem Post], although this is disputed by Gazan authorities and hospital staff[Common Dreams, Democracy Now, Jerusalem Post].


---


What is the condition of Gaza's hospitals?

Reports suggest significant damage to hospital infrastructure with impacts on medical services, amid Israeli bombardment[Democracy Now, Common Dreams]


---



---
News Media Bias (?)
News sources exhibit bias based on their cultural, political, and geographical context.

BBC[bbc.co.uk] and PBS[Jerusalem Post] generally adopt a neutral stance but show Western perspectives.

Jerusalem Post[Jerusalem Post, Jerusalem Post] is pro-Israel, with likely bias in favor of IDF's viewpoint.

Democracy Now[Democracy Now] and Common Dreams[Common Dreams] are left-leaning, generally questioning or criticizing actions of Western governments or their allies.

---
Context
Israeli-Gazan conflict is historical, complex and politicized. Gazan hospitals' situation reflects competing narratives and broader realities of warzones, wherein verification of allegations is immensely challenging.

---
Takeaway
This scenario underscores the challenges of ascertaining truth in conflict situations. Competing claims need diligent, independent verification as they could impact actions of involved entities and international response.

---
Potential Outcomes
Continued assertion and denial of claims, with little direct resolution, due to difficulty of independent verification in an active warzone.

Potential expansion of conflict without a well-established resolution mechanism, leading more to pursue their own version of justice.

---
---
---
Deepen Your Understanding of The World      
---
Read Deeper on:
Contradictions exist regarding use of Gazan hospitals for Hamas operations
Click points to explore news by date. News sentiment ranges from -10 (very negative) to +10 (very positive) where 0 is neutral.
---
---
---
---
---
---
---
---
---
---