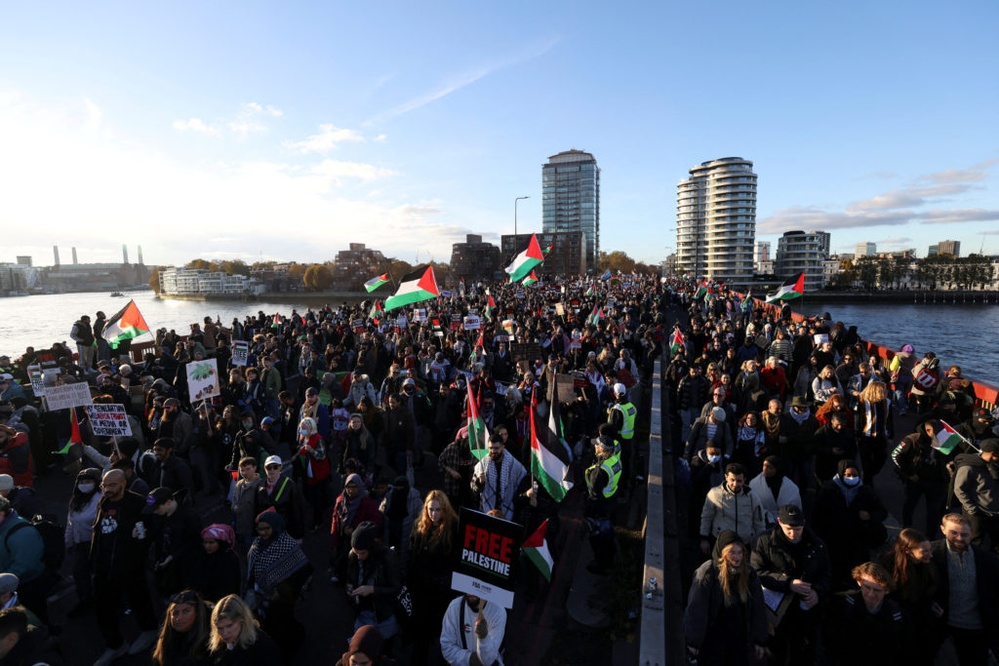 Source: https://www.pbs.org/newshour/world/far-right-counter-protesters-clash-with-london-police-at-pro-palestinian-march
---
Evidence
There's been a global rise in antisemitism, demonstrated by severe attacks like the Hamas attack on Israeli soil that victimized over 1400 Jewish individuals, and coupled with worldwide antisemitic hate crimes[Jerusalem Post].

The Jewish community has further pushed for and received heightened security measures, while receiving support and pledges to fight antisemitism from international organizations and political authorities [Jerusalem Post].

---
Perspectives
Jewish Community Perspective
The increased antisemitic attacks have led to fear and a need for heightened security among members
[Jerusalem Post]
. However, they have also witnessed solidarity from some sectors
[Jerusalem Post]
.
Political Authority Perspective
Such incidents have compelled authorities to condemn antisemitism and increase security, despite variations in their approach towards the Palestine-Israel conflict
[Jerusalem Post, Jerusalem Post, Jerusalem Post]
.
Young Jewish Americans Perspective
There is a generational divide, with younger Jews being more critical of Israel, suggesting varied understandings about what constitutes an offense to the Jewish community or a support/defense of it
[Jerusalem Post]
.
---
Q&A
What measures are currently in place to help secure the Jewish communities?

Increased security measures have been provided by authorities, with envoys demanding further strengthening. There are also calls for vigilance against antisemitic threats and anti-hate speech on social media [Jerusalem Post].


---



---
News Media Bias (?)
The Jerusalem Post covers a wide spectrum of Jewish perspectives and tends to cater to Jewish readership's interests.

With its focus on Jewish issues, there might be a tendency in skewed coverage or potential blind spots.

However, in reporting these incidents, it appears to aim for balance and inclusivity, covering different perspectives within Jewish communities and beyond[Jerusalem Post, Jerusalem Post, Jerusalem Post, Jerusalem Post, Jerusalem Post, Jerusalem Post, Jerusalem Post].

---
Context
Given the historical persecution of Jews and the contentious Israel-Palestine conflict, the rise of recent antisemitic incidents situates amidst a complex backdrop of geopolitical conflicts, historical trauma, and intergenerational differences within the Jewish community .

---
Takeaway
These incidents underscore the complex, international and multifaceted nature of antisemitism and the intersections with political stance towards the Israel-Palestine conflict. It deploys a critical need for global solidarity against hate crimes and a nuanced understanding of the geopolitical context.

---
Potential Outcomes
Continuous rise in antisemitism could lead to increased fear and security measures within Jewish communities, potentially affecting the community's overall state of mind and freedom of living. If not checked, it may influence the overall stability of nations with significant Jewish populations.

On the other hand, if improved measures are taken against antisemitism, it may restore a sense of security and normalcy in the affected communities and pave the way for progressive discussions on resolving root causes and conflicts, like the Israel-Palestine conflict.

---
Deepen Your Understanding
---
---
Deepen Your Understanding of The World      
---
Read Deeper on:
Rise in antisemitism is fueling fear and urgency for increased security in Jewish communities across the globe