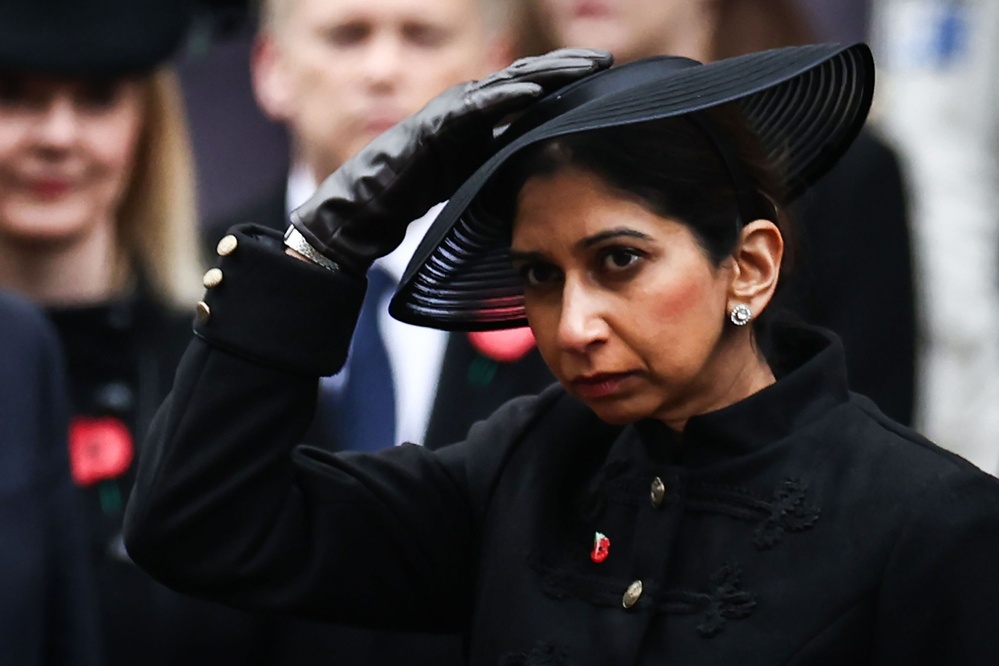 Source: https://www.bqprime.com/world/uk-s-sunak-fires-home-secretary-suella-braverman-official-says
Helium

Summary: Suella Braverman, former home secretary was sacked by Rishi Sunak due to alleged divisive language and tensions she was causing within both the community and her party[Weekly Standard, BQ Prime, Weekly Standard]. Her stance and actions related to handling pro-Palestinian protests invited severe criticism and were reportedly linked to the subsequent violent counter-protests [bbc.co.uk, Daily Mail, BQ Prime]. Moreover, remarks concerning homelessness also received backlash[bbc.co.uk]. Subsequent to her firing, a major cabinet reshuffle has been initiated by Rishi Sunak[BQ Prime, bbc.co.uk].
November 14, 2023
---
Evidence
Suella Braverman was fired from her position as home secretary following controversies, including criticizing the police force handling pro-Palestinian demonstrations and remarks about homelessness[bbc.co.uk].

James Cleverly replaced Suella Braverman as part of a larger Cabinet reshuffle initiated by Rishi Sunak, following her firing[BQ Prime, Weekly Standard].

---
Perspectives
Conservative Party Members
Some members of the Conservative Party defended her controversial views and were upset about her firing, leading to calls for Sunak to be replaced
[Weekly Standard]
.
Labour Party Members
Labour members condemned Ms. Braverman, accusing her of disrespecting the countries values and exacerbating community tensions
[Daily Mail, bbc.co.uk, BBC]
.
Political Observers
Observers indicate that Braverman's firing could lead to greater political instability and infighting within the Conservative Party
[BQ Prime]
.
---
Q&A
Who replaced Suella Braverman as Home Secretary?

James Cleverly was appointed as the new Home Secretary after Suella Braverman was fired[BQ Prime, Weekly Standard].


---


Why was Suella Braverman sacked?

Suella Braverman was sacked due to causing alleged political and societal tensions through her divisive language and polemic actions, related to the handling of pro-Palestinian protests and her comments on homelessness[BQ Prime, bbc.co.uk].


---



---
---
Context
Suella Braverman's sacking is part of larger political and societal tensions in the UK. It underscores competing views on handling of protests, societal policies and power struggles within the Conservative party.

---
Takeaway
This incident underscores the intense politico-social tensions and diverse views within the Tory party and the UK in the context of community protests and displacement of politicians. This also could be interpreted as an indicator of shifting powers and alliances within the party.

---
Potential Outcomes
Increased infighting within the Tory party, possibly leading to a leadership challenge against Sunak given the anger expressed by certain party members.

Braverman could become a vocal critic of the administration, causing additional political tensions and debates within the party.

---
---